CINCINNATI — Mincing few words before Saturday night's game at Great American Ball Park, Cardinals manager Oliver Marmol said that the club needed Tyler O'Neill and Steven Matz to be good the rest of the way for the Cardinals to arrive at their destination of a championship .
O'Neill, batting No. 2 for the second night in succession, hit a two-run homer and drove in another run with a single, giving him five runs batted in for the two nights. He had only 28 RBIs in an injury-plagued season before the team got here.
Matz, who hadn't started for the Cardinals since May 22 because of a left shoulder impingement, struck out seven, including five in a row from the fourth into the sixth innings. He gained his first win since May 2 in the Cardinals' 6-3 triumph over the Reds but wasn't able to finish the sixth when he suffered a left knee strain after fumbling Joey Votto's tapper down the first-base line and then lunging to try to pick it up.
Matz, who may have been better off letting first baseman Paul Goldschmidt make the play, now will be out several more weeks. Insult added to injury, Matz (4-3), who allowed just three hits and walked only one in 5 1/3 innings, was charged with an error.
But the Cardinals' bullpen controlled the final 3 2/3 innings — All-Star Ryan Helsley recorded his ninth save — and the Cardinals won the second game of a trip for the seventh consecutive time this year. Oddly, they have lost the first game on all seven trips.
Matz attacks
Matz was aggressive early, throwing 18 strikes in his first 25 pitches over two innings. Topping out at 96 mph, Matz, who had a shoulder impingement, allowed a two-out single to form Cardinal Tommy Pham in that span.
Goldschmidt joins another club
Goldschmidt knocked in one of two Cardinals runs in the third inning with a single to left, scoring O'Neill. That run beaten in was No. 1,000 for Goldschmidt, who recently also had surpassed 300 home runs and 1,000 runs scored in his career.
Dylan Carlson began the inning with a double, his fifth consecutive game with an extra-base hit, tying Goldschmidt for the longest such streak by a Cardinal this season.
O'Neill delivered a run-scoring single, scoring Carlson. On the next pitch, O'Neill stole second without a throw.
Goldschmidt made it 2-0 with his seventh hit in 13 at-bats against left-hander Mike Minor. Nolan Arenado doubled to left center, Goldschmidt stopping at third. The rally also stopped there.
Albert Pujols bounced to third and Tommy Edman was walked intentionally. But, with the bases loaded, Brendan Donovan tapped to Minor, who forced Goldschmidt at home. And Edmundo Sosa fanned for the second of four times.
Reds take advantage of Cardinals miss
With the Cardinals having squandered a chance at a bigger inning, the Reds caught up in their third.
Matz hits Stuart Fairchild with a pitch and Mark Kolozsvary forced Fairchild. Jonathan India walked on a close 3-2 pitch and Brandon Drury doubled to left center. Kolozsvary scored easily and India, running through third-base coach JR House's stop sign, diverged home ahead of catcher Andrew Knizner's tag after Knizner had taken a slightly up-the-line throw from shortstop Sosa.
O'Neill is 'going'
Marmol had said he was hitting O'Neill second "to get him going," after more than half a season of inconsistency and injury. O'Neill belted a 416-foot homer to the greenery in center following Carlson being hit by a pitch with one out in the fourth.
Goldschmidt then cracked his 22nd homer, marking the fifth time the Cardinals had homered back-to-back this season and it was 5-2.
Later in the inning, Pujols doubled to left, giving him 934 career multi-hit games, tying Hall of Famer Eddie Murray for 11th on the career list. Pujols, who has 685 career homers, later would miss out on two home run chances—once just foul and another caught at the wall.
Through five innings, Matz maintained the 5-2 edge, striking out the side in the fifth on sinkers of 95, 96 and 95, respectively, with Kolozsvary looking and India and Drury flailing.
Kolozsvary hits first homer
But, after Edman had driven in a run with a single in the sixth, Kolozsvary, recalled earlier in the day, smacked his first big-league homer off Junior Fernandez in the Reds' seventh, cutting the Cardinals' lead to 6-3. Fernandez hit India near the right hand and Giovanny Gallego walked Drury before Gallegos exited the inning by retiring Votto on a checked swing tapper to the mound.
Helsley, throwing as high as 102 mph, set down the final four Reds hitters covering the eighth and ninth, striking out all three he faced in the ninth.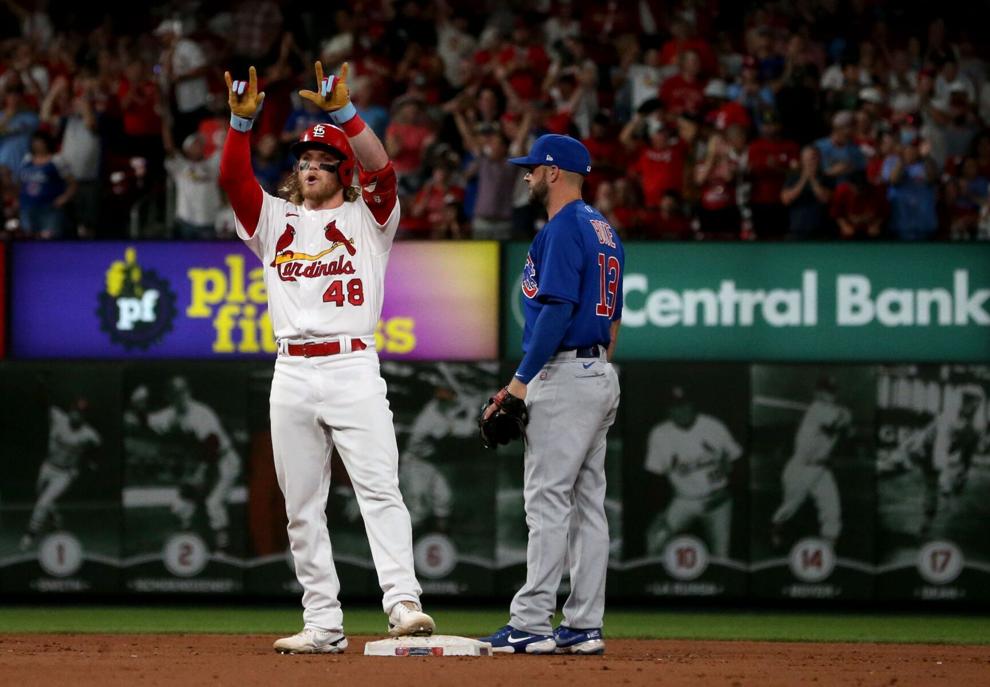 Photos: Cardinals top Reds in the second game of their series in Cincinnati
Cardinals Reds Baseball
Cardinals Reds Baseball
Cardinals Reds Baseball
Cardinals Reds Baseball
Cardinals Reds Baseball
Cardinals Reds Baseball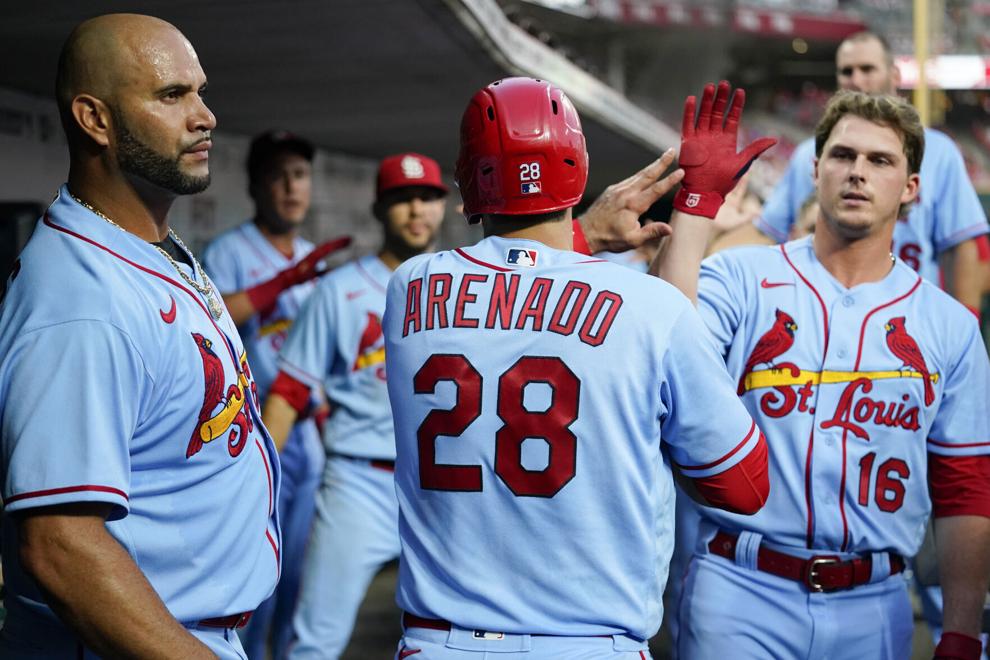 Cardinals Reds Baseball
Cardinals Reds Baseball
Cardinals Reds Baseball
Cardinals Reds Baseball
Cardinals Reds Baseball
Cardinals Reds Baseball
Cardinals Reds Baseball
Cardinals Reds Baseball
Cardinals Reds Baseball
Cardinals Reds Baseball
.